Advanced Yoga Teacher Training Retreat
300 Hours Yoga Alliance Certification Course
At AyurYoga Eco-Ashram, Mysore-Kerala, South India
For the students who completed 200 hours teacher training and already having some experience of teaching yoga, this course deepens the Self-Practice to the next level and empowers them to practice and teach the advanced poses/pranayamas which are not covered in 200 hours yoga teacher training certification courses.
Upcoming Dates:
15 Sept. - 13 October 2015

Arrival by the evening of 14 September 2015
Departure on the night of 13 Oct /morning of 14 Oct. 2015
Who Can come?
Completed 200 hours Yoga Teacher Training with Yoga Alliance accreditation
Advanced enough to hold poses for a minimum of 1 minute.
Healthy joints to practice 20 to 30 rounds of Sun Salutations every morning
Core Strength enough to do 20 double leg lifts continuously.
Lung Capacity to sustain one hour a day, 30 minutes each session of Intensive Pranayamas.
Basic knowledge of Anatomy
Physically and Mentally fit enough to handle the intensity of 10 hours/day schedule
Used to light Vegetarian meals twice a day and fruit Lunch
Willing to practice silence from 10 pm - 10 am
No High Blood Pressure, No heart ailments or any chronic illnesses.
What can you gain from advanced Yoga Teacher Training?
Surya Namaskaras:
Daily practice of 30 to 50 rounds everyday 1) to strengthen Joints + Core for advanced poses 2) improving Cardio-Lung capacity to breath better 3) Detoxifying the Body-Breath-Mind.

Advanced Asanas:
Led by the advanced Yogi Master Baburaj, the morning Yoga class focuses on holding intermediate asanas longer and progressing to advanced poses safely.
Pranayamas:
Practice of 30 minutes of pranayamas both morning and evening, to master Bhastrika, 4-Level Anuloma-Viloma with external
retention
, along with calming Bhramari and Ujjayi, led by Krishna Chaitanya.
Bandhas:
Practice of Mulabandha, Uddiyana and Jalandhara Bandha to improve Kumbhaka
Kriyas:
Daily practice of Jala Neti, Kapalabhati/Bhastrika, Agnisara and trying out Sutra Neti, Shanka Prakshalana in the last week of the course.
Meditation:
Learn and practice of Various Meditation
techniques
every morning.
Philosophy:
Learning the Essence of Bhagavad-Gita, with a Sanskrit Scholar Swami Prabodh Chaitanya.
Anatomy:
Two weeks of Yoga Anatomy based on Leslie Kaminoff and David Coulter.


Teaching Methodology:
Two weeks of workshops on understanding the principles of teaching Yoga Classes for various levels and settings

Corrections and alignments for advanced poses

Understanding the energy flows and creating Sequences within Chakra groups

Specialized classes for Kids, Prenatal, Senior Citizens etc.

Working with Injuries, Depression, and alternative settings

Exploring the book: 'Yoga Sequencing' by Mark Stephens
We recommend you to bring the following three books with you for the 300/500 hours advanced teacher training:

Anatomy of HathaYoga by David Coulter will be given as manual.
Yoga Nidra:
Practicing of various Yoga Nidra techniques for deeper relaxation.


Chanting:
Learning how to chant a few more Sanksrit Prayers that you can use in Class Rooms.

Private Coaching:
Daily Private Coaching on afternoons offering one-on-one time with our expert teachers.

Teaching Practice:
Each student will be teaching at least two to four classes to the small group of three/four other students: 1) Intermediate 2) Advanced and also learn how to offer workshops based on Chakras. These classes will be monitored by our expert teachers who would help with corrections and suggestions.

Yoga Alliance 300 Hours Certification & Assessments
During this 300 hours Advanced Yoga Teacher Training the students are continuously assessed throughout the course at all levels. There will be a practical test and two written exams to evaluate the understanding and skills of the students.
After the successful completion of the course, you can get the certification of RYT 300 hours training, which would be added to your past RYT 200 hours to qualify you to register as RYT 500 Hours with Yoga Alliance.
We are registered with Yoga Alliance as RYS 200 and RYS 300 which enables you to get all 500 hours training when you complete both programs.
Guidelines
Smoking, Alcohol, drugs are not allowed during the course. In case, if we find any student engaged in these activities, we reserve the right to dismiss from the retreat, without any refund.
The students are expected to keep away from stimulating music, computers (other than for unavoidable emails), or any activity distracting other students.


Costs for 300 Hours Advanced Yoga Teacher Training:
$2200 = Twin-share Room + Food + Course + Manuals
$2500 = Private Room + Food + Course + Manuals
This Course Fees includes Accommodation + Food for 28 nights, all classes and manuals, New Yoga Mat, Kriya accessories like Jala Neti, Sutra neti, etc. that we will give you after arriving here.
The course fee DOES NOT include your flight ticket / Airport transfers which we can organize at extra costs.
Deposit:
A non-refundable deposit of US$300 is required to finalize a booking in any one of our yoga teacher training retreats. You can pay this with your Credit Card online through Paypal.
Cancellation Policy:
If you can't make it to the course for any reasons, you can transfer the deposit to any of our future retreats within two years from the course starting date -- provided you inform us at least six weeks before the course starting date so that we can find a replacement for your spot. If you cancel the course at the last moment and if we can't find a replacement you will loose the deposit.
Balance Payments:
The balance payments can be paid after arrival in cash, in any major currency. You can also pay with your Credit/Debit cards (only Visa and Master) with 4% extra transaction fees, or American Express Travellers Checks.
For payments in Indian Rupees or any other currencies, we use the current exchange rates from www.xe.com at the time of your payment.
Daily Schedule:
05.30 – 06.00 am: Meditation
06.30 – 08.30 am: Advanced Yoga
08.30 – 09.00 am: Pranayamas
09.00 - 10.30 am: Brunch Break
10.30 - 12.30 pm: Anatomy
Teaching Methodology
12.30 - 01.00 pm: Private Coaching
02.00 – 02.30 pm: Fruit Lunch
02.30 - 04.00 pm: Philosophy
04.30 - 06.30 pm: Teaching Practice

06.30 – 07.00 pm: Pranayamas

07.00 - 08.00 pm: Dinner
08.00 - 09.00 pm: Videos/Chanting
09.00-10.00 pm: Study Hour

10 pm - 10 am: Silence Hours
.300 Hours Advanced Yoga Teacher Training in India
RETREAT LOCATION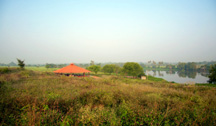 To know more about Accommodation, Food, How to Get Here and other practicalities, please check the Orientation Guide PDF also: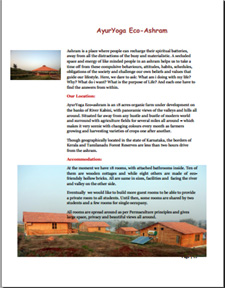 How to Register?
Please Contact Us now or email: info@hathayoga-meditation.com to check the availability of a place.

If a place is available we will send you a link to our online application which you have to fill up and also email a photo to be attached with the application.

After the review and approval of the application, you will have to send a non-refundable deposit of $300 USD to finalize your place in the course.