Yoga Teacher Training Retreats in Kerala

JAIVA ECO CAMPUS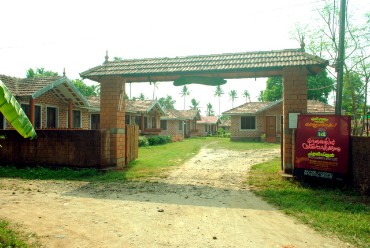 Our next season retreats in Kerala (November to April 2011-12) will be held at this beautiful Jaiva Eco Campus, on the bank of river Chalakkudy in the village of Moozhikulam (pronounced as Moolikulam), which is 12 kilometers from Cochin International airport.


Situated in the middle of Kerala's tourist attractions of Backwaters, beaches, tea and spice gardens, mountains, and at the same time closer the modern metro city of Cochin, this place and village is culturally rich with ancient music schools, art theaters, temples, churches and of course, a river!
Moozhikkulam is a small idyllic village with all the basic facilities of a little town. The village square, at 10 minutes walking distance from our Jaiva Campus, has Post Office, Bank, shops, local restaurant, ATM center, Foreign Exchange center, Nature Cure center, a Homeopathy Clinic, Telephone Exchange, Milk Diary, medical shops, etc and buses, taxis are available easily. That's more than what we can ask for any Indian village!
Please go through our Orientation Guide below to read more about this location and how to get here.
Right on the bank of Chalakkudy River, Jaiva campus is a three acre area, with 22 Eco houses and 29 single room cottages. All the buildings in this campus are made by Eco-friendly materials and a minimum of cement is used - known as Laurie Baker's model. The Eco-houses are designed in the traditional Kerala's rural architecture which allows plenty of air and light into each room.


Please note a few families already own and living in a few cottages here and students needs to be sensitive to Hindu culture, customs and ecology of this small village, which is not used to see any westerners before. No doubt that it a wonderful experience to get exposed and to interact with local culture and people. At the same time, we are strict about not disturbing the socio-economic and ecological balance that is caused by tourism in many other parts of India.
FACILITIES:
Two Yoga Halls
We have two yoga halls – one large one (3000 sq. feet) for main yoga classes and another riverside hall (1000 sq feet) which can be used for theory classes and yoga for smaller groups and also for weekly cultural programs.
Private Rooms for all:
All students will be staying in Eco-friendly private rooms with attached bathrooms, with showers and western toilet commodes.
Reception Cottage:
An exclusive Reception cottage is open 24/7 for any assistance. The same cottage also houses Internet café, International Phone calling facilities, a travel desk to book taxis, train and flight tickets.
Boutique
You can buy basic toiletries, towels, yoga clothes, books, music, neti pots etc. in our campus
Laundry:
We have a person employed for washing and ironing the clothes of our students. It will cost 10 rupees for big pieces of clothes and 5 rupees for small pieces and 50 rupees for one tub.
Kitchen and open Dining Hall:
We have an exclusive kitchen to cook the food conducive for yoga practice. Dining hall is on open platform facing the river and vacant fields around. Watch out for the starry nights and bright full moons.
Drinking Water:
We will provide clean filtered water for drinking at all times and also boiled water at the time of meals.
Swimming:
It is possible to swim in the river during the free hours during the day-time. We have to request the girls not to wear bikinis for swimming as it can attract the crowds from the local village and we may have wrong publicity in the village. Shorts and T-shirts should be okay.
The Cherai Beach is 40 minutes drive from our place and can be visited on days-off.



Cultural Weekends:
There will be occasional cultural nights within our campus to showcase the traditional Dance, drama, music, martial arts of Kerala – that are related to yoga. These programs are part of yoga curriculum hours and included in your course fee. We also try to take you out for the temple festival or anything culturally interesting events happening nearby.
Local Sightseeing:
We organize day-trips to Elephants park, Water falls, Forests, Boating and sightseeing the interesting places around, on every day-off. If you would like to visit to any other place on your own we can help you with taxis and guides.
Free Airport Transfers
For the students who are fully paid before arriving here will get free airport transfers complimentary and all other students will get airport departure drop as complimentary.
Internet & Wi-Fi
We have two wi-fi routers installed in our campus - though the signal doesn't reach inside all the rooms, you can sit in the yoga halls or reception to access net on your own computer or phone. There is one computer in the reception for the use of students.
Ayurveda Doctor and Facilities:
We have ayurveda therapy rooms and medicines are prepared from fresh herbs right here in the campus and all other oils and medicines are locally made. Both male and female therapists can be called as per the requirements of the students. An ayurveda Doctor will be visiting our campus for daily consultations.
Allopathic doctor is also available on call. The village also has a homeopathy clinic and another Naturopathy Hospital.
We have a contract with the Jaiva Campus to provide the foods and drinks as per the menu conducive to yogic practices. All students are charged a flat rate of 150 Euros for 30 days for all foods and drinks provided for the group. Generally what we provide for the group is healthy, nutritious and tasty vegetarian meals and we avoid the foods which are not conducive for the intense practice of yoga you will be going through.


05.30 am: Hot Lemon-Ginger Drink (Tea is possible with prior request)
09.00 am: Brunch – Salad, South Indian foods and hot drink
02.30 pm: Fruits, Natural healthy Drinks and optional herbal tea/coffee
06.30 pm: Dinner – Rice, Roti (Indian bread), Lentils, Vegetable curries and Dessert on weekends.

If the Indian food doesn't suit your stomach, we can provide bread, toast, porridge, Corn-flakes with milk etc. We are flexible to talk and arrange the food that is good for your stomach.

Meat and Fish products are not allowed in our campus. If anybody feels low in energy we can provide boiled eggs on request.


ACCOMMODATION
Facilities and Costs:
All students in this campus will be staying in private rooms, with an attached bathroom. We do not have any twin-share or dormitory in this campus as the rooms are small and will not be comfortable to have two separate beds. For couples we have deluxe rooms with single larger beds.

Type A: Eco-House Private rooms: US $200/30 nights.
It is a traditional Kerala house with three bed rooms (with private closet for each), one large kitchen (but no stove and cooking facilities) and storage room, sitting area, and two porches within the house. Please note one of the three bedrooms in this house has an Indian squatting toilet and one of you may have to adjust to that – we will inform you at the time of booking.
Type B: Riverside Single Room Cottages: US $300/30 nights.


These are eco-cottages of a single room with a private closet (western toilet and showers) and a small pantry with a stony table, a sink and chair, which you can also use for reading, writing or computer work. These are cottages right on the bank of the river and you can have your own hammock on your private balcony or sit on the benches or lawns closer to water.
Type C: Deluxe Eco-House Rooms: US $400/30 nights.
These are like other Eco-houses but with white tile flooring, and better interiors and more furniture. The rooms in this cottage are equipped with air-conditioners. The spacious kitchen is provided with stove and utensils for making tea or basic cooking. And also hot-water is available in the kitchen area within the cottage. It is suitable for elderly people, couples or those who can't bear the heat of Kerala – which can go up to 30 to 35 degrees (86 to 96 Fahrenheit) on some days during November to February and all days during March and April.


For complete information about location, how to get to our place, what to bring, preparations, books etc., please check our Orientation Guide by clicking on the link here:
Our Location on the Google Maps

Please click on 'minus' button to view the surroundings and click on the 'map' for road maps.
Location:
Jaiva Campus
Village:
Moozhikkulam
Post:
Kurumassery
District:
Ernakulam
City:
Cochin (20 kilometers away)
Airport: Cochin (COK) - 12 kilometers
Train Station: Aluva (AWY) - 25 km
Train Station: Ernakulam (ERS) - 35 km
Bus Station: Muzhikkulam (Via Aluva)
Yoga Teacher Training

Retreats in Kerala




09 Nov - 08 Dec 2012
18 Dec - 16 Jan 2013
01 Feb - 02 Mar 2013
12 Mar - 10 Apr 2013